Unleash Your Imagination With Our Selective Laser Sintering Services
Our suite of SLS printing machines offers limitless 3D printing possibilities.

Let us help you revolutionize your manufacturing process and take your business to the next level with our world-class SLS printers.

Backed by AS/ISO certifications that guarantee the highest quality standards, whether you need 1 part or 1 million, we've got you covered.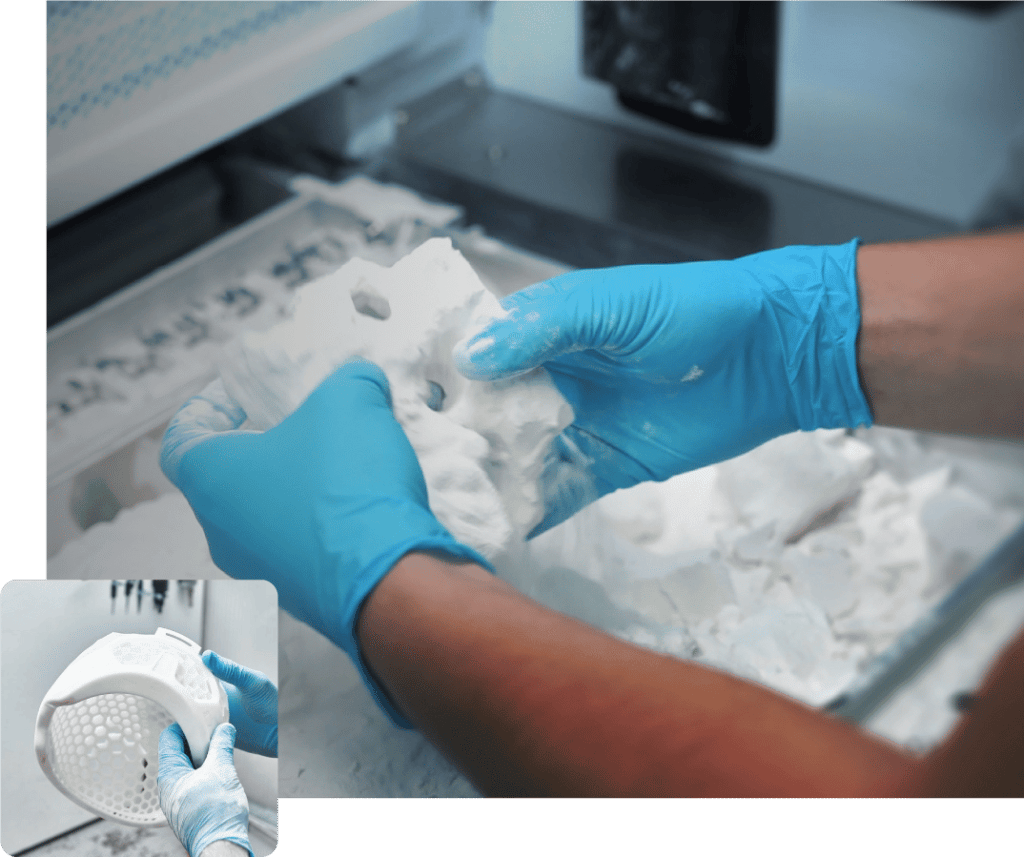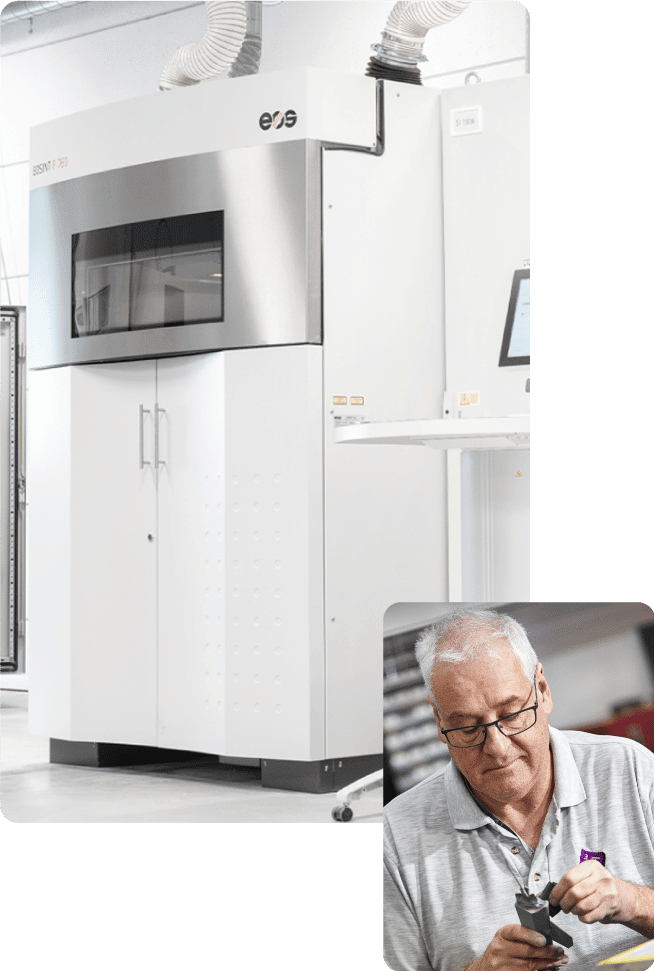 Our laser-based additive manufacturing technologies offer a reliable and high-quality solution for your manufacturing needs.
Our intelligent harmonization of system, materials, and process parameters ensures that you get the best quality parts possible.
Plus, our suite of EOS laser sintering machines is one of the largest in the UK, giving us the capability to handle even the most complex geometries with no support structure needed.
Production Parts. Fast.
What sets us apart is our commitment to fast turnaround times for production-ready parts.
We know that time is of the essence, which is why we offer a streamlined production process that allows us to efficiently move from design to finished product.
All parts are supplied in as little as 5 days, so you can get your parts quickly without compromising on quality.
Quality Manufacturing You Can Trust.
We recognize that quality is essential to the success of any manufacturing project, and we are committed to upholding the highest standards of excellence.
Our EN 9100:2018, ISO 9001, and ISO 13485:2016 certifications demonstrate our dedication to quality and ensure our customers can trust us to provide reliable, high-quality products that meet the strictest industry standards.
The Finishing Touches.
We also offer a range of customization options to meet your specific needs.
With 9 standard colours and a number of different finishing capabilities available, we can print parts that match your branding or aesthetic requirements.
Our laser-based additive manufacturing technologies offer a reliable, high-quality solution for those struggling to find a manufacturing solution that can produce complex parts quickly and efficiently.
Let us help you achieve the perfect part for your needs.
Material Data Sheet Catalogue
Want to find out which material is suited to your project? 
Download our material data sheet below.
Download
FAQs
Have a question? Here you can find more detail on what we offer:

Not answered your question? Feel free to get in touch.
Get in touch
2 X EOS P760 Build size: 700mm X 380mm X 580mm
4 X EOS P396 Build size: 340mm X 340mm X 600mm
Layer thickness: 120 Microns (0.12mm)
PA12
PA12 Glass filled
PA2241 Flame Retardant
PA11
We have a range of processes available to finish SLS parts. These include, colouring, painting, plating, adding tappex inserts, and many more custom finishes. Just let our sales team know what you need.
The largest part we can make in one piece is approximately, 700x380x580mm, however, we can make larger parts and weld them back together.
Minimum wall thickness of 1mm

Minimum hole diameter 2mm

Maximum wall thickness of 5mm-10mm (hollowing required on thicker parts)

Try where possible to avoid large flat panels

Avoid draft angles (draft angles= layer steps in part)

For moving/ intersecting parts, ensure clearance of at least 0.3mm (subject to geometry)
Nylon 12 is suitable for the majority of prototyping and production parts made using SLS technology. Our other nylons have specific applications for toughness or flame-retardant properties, but when those are not required, nylon 12 is recommended.