Finishing Capabilities
With over 60 years of combined experience in model making and post-processing, our finishing department are perfectly suited to delivering high-end paint finishes and complex assemblies to our customers.

We ensure every last detail is taken care of and our bespoke finishing services offer a range of options from simply adding a colour or highlighting certain areas, to fully finished marketing models, or the inclusion of mechanical components, inserts or screw threads.

The resulting finished model or prototype part can play a vital role in functionality testing, securing tender bids, design verification and marketing photography.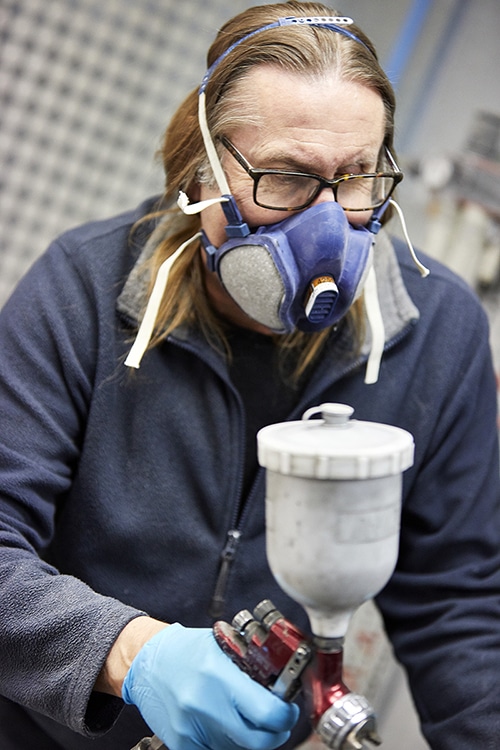 We offer the following capabilities:
Colouring
Using our in-house dying capabilities, single parts or large batches can be supplied in a range of standard colours, including red, blue, green, orange, purple, yellow and black.
Fully Equipped Paint Shop (All Grades Of Finishes Possible)
From a one-off rapid prototype model to high-volume production parts, our state-of-the-art paint shop enables us to produce stunning finishes for an infinite variety of end uses. We offer a wide range of paint finishes, from a simple colour change to a fully gloss topcoat as well as everything in between, all completed in a RAL or Pantone colour of your choice.
Expertly Developed Assembly Techniques (Welding, Bonding, etc.)
As there are size limitations on what we can produce in one print, it is crucial to have robust methods of assembling large components. For this, we use a variety of different methods depending on the component including adhesives, fasteners and plastic welding methods. In the past, we have manufactured entire F1 car body panels, full-size engine block models as well as scale oil rigs and satellite models, to name a few.
Inserts
We can fit inserts into polymer AM parts, giving a robust thread for prototyping or manufacturing applications. Most of our inserts are fitted by heat staking them into the receiving hole, but other methods can be used too.
Please visit the Tappex insert guide here for best practices on designing the receiving hole.
Shot Peening
Shot peening compresses the outer surface of polymer parts and creates a more consistent finish when used in combination with colouring. Though the surface finish of shot peened parts will not be as smooth as vibro or vapour-treated components, the process does still offer a degree of surface enhancement. As with the vibro/vapour treatments we offer, not all geometries are suitable for this process, so please check this with our sales team at the point of enquiry.
Vibro Polishing
Unlike more labour-intensive methods such as hand sanding, our vibro smoothing process can finish some of the internal features of components, such as holes and voids in addition to their outer surface. The only limitations to the process are that the largest size part that can fit into our machine is approx. 300mm x 300mm x 300mm. Please also note that features and walls below 2mm thickness are unlikely to survive this process.
Final Assembly
For specialist projects, we are also able to add sub-assembly of end-use components to production parts, to reduce the length of your supply chain and in-house sub-assembly time.
Metal Plating
Through our industry partners, we are able to offer metal plating (also known as metal deposition) for our Nylon and Glass Filled Nylon parts. This greatly enhances their functionality and strength, allowing them to be used in environments and within industry sectors that non-plated parts would struggle to compete in.
The plating process adds a higher level of stiffness and rigidity, as well as conductivity, electrical compliance in terms of EM or RF shielding and a considerably higher heat deflection temperature.
Total layer thicknesses can vary, but the standard is usually approx. 100 microns. For instance, an average RF shield or EM coating is generally approx. 80 microns of copper and 20 microns of nickel. At approx. 150 micron surface layering, performance in terms of tensile strength increases by about nine times that of the standard Nylon material.